My Blog
Posts for tag: oral hygiene
By Family Dental
January 09, 2019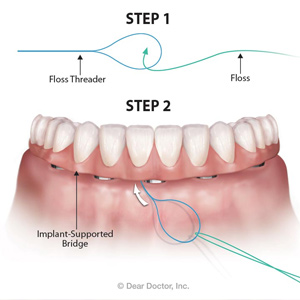 Implant-supported fixed bridges are growing in popularity because they offer superior support to traditional bridges or dentures. They can also improve bone health thanks to the affinity between bone cells and the implants' titanium posts.
Even so, you'll still need to stay alert to the threat of periodontal (gum) disease. This bacterial infection usually triggered by dental plaque could ultimately infect the underlying bone and cause it to deteriorate. As a result the implants could loosen and cause you to lose your bridgework.
To avoid this you'll need to be as diligent with removing plaque from around your implants as you would with natural teeth. The best means for doing this is to floss around each implant post between the bridgework and the natural gums.
This type of flossing is quite different than with natural teeth where you work the floss in between each tooth. With your bridgework you'll need to thread the floss between it and the gums with the help of a floss threader, a small handheld device with a loop on one end and a stiff flat edge on the other.
To use it you'll first pull off about 18" of dental floss and thread it through the loop. You'll then gently work the sharper end between the gums and bridge from the cheek side toward the tongue. Once through to the tongue side, you'll hold one end of the floss and pull the floss threader away with the other until the floss is now underneath the bridge.
You'll then loop each end of the floss around your fingers on each hand and work the floss up and down the sides of the nearest tooth or implant. You'll then release one hand from the floss and pull the floss out from beneath the bridge. Rethread it in the threader and move to the next section of the bridge and clean those implants.
You can also use other methods like specialized floss with stiffened ends for threading, an oral irrigator (or "water flosser") that emits a pressurized spray of water to loosen plaque, or an interproximal brush that can reach into narrow spaces. If you choose an interproximal brush, however, be sure it's not made with metal wire, which can scratch the implant and create microscopic crevices for plaque.
Use the method you and your dentist think best to keep your implants plaque-free. Doing so will help reduce your risk of a gum infection that could endanger your implant-supported bridgework.
If you would like more information on implant-supported bridges, please contact us or schedule an appointment for a consultation. You can also learn more about this topic by reading the Dear Doctor magazine article "Oral Hygiene for Fixed Bridgework."
By Family Dental
November 22, 2017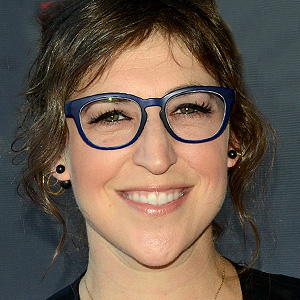 How many actresses have portrayed a neuroscientist on a wildly successful TV comedy while actually holding an advanced degree in neuroscience? As far as we know, exactly one: Mayim Bialik, who plays the lovably geeky Amy Farrah Fowler on CBS' The Big Bang Theory… and earned her PhD from UCLA.
Acknowledging her nerdy side, Bialik recently told Dear Doctor magazine, "I'm different, and I can't not be different." Yet when it comes to her family's oral health, she wants the same things we all want: good checkups and great-looking smiles. "We're big on teeth and oral care," she said. "Flossing is really a pleasure in our house."
How does she get her two young sons to do it?
Bialik uses convenient pre-loaded floss holders that come complete with floss and a handle. "I just keep them in a little glass right next to the toothbrushes so they're open, no one has to reach, they're just right there," she said. "It's really become such a routine, I don't even have to ask them anymore."
As many parents have discovered, establishing healthy routines is one of the best things you can do to maintain your family's oral health. Here are some other oral hygiene tips you can try at home:
Brush to the music — Plenty of pop songs are about two minutes long… and that's the length of time you should brush your teeth. If brushing in silence gets boring, add a soundtrack. When the music's over — you're done!
Flossing can be fun — If standard dental floss doesn't appeal, there are many different styles of floss holders, from functional ones to cartoon characters… even some with a martial-arts theme! Find the one that your kids like best, and encourage them to use it.
The eyes don't lie — To show your kids how well (or not) they are cleaning their teeth, try using an over-the-counter disclosing solution. This harmless product will temporarily stain any plaque or debris that got left behind after brushing, so they can immediately see where they missed, and how to improve their hygiene technique — which will lead to better health.
Have regular dental exams & cleanings — When kids see you're enthusiastic about going to the dental office, it helps them feel the same way… and afterward, you can point out how great it feels to have a clean, sparkling smile.
For more information about oral hygiene, please contact our office or schedule a consultation. You can read the interview with Mayim Bialik in the latest issue of Dear Doctor magazine.
By Family Dental
May 25, 2017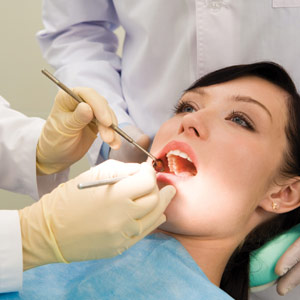 Surgical treatment for periodontal (gum) disease can go a long way toward restoring your mouth to good health; however, it does not change your susceptibility to the disease. That's why we recommend that you come in regularly for periodontal cleanings after your treatment. Here are some frequently asked questions about keeping your mouth healthy after gum disease treatment.
How often do I have to come in for periodontal cleanings?
There's no "one-size-fits-all" answer to that question: It really depends on your individual situation. For example, some individuals may have a more aggressive form of periodontal disease that requires more frequent periodontal maintenance (PM) treatments to maintain control. Others may have greater success controlling the buildup of disease-causing plaque with at-home oral hygiene measures, and therefore need PM less often. However, for people with a history of periodontal disease, getting PM treatments at a three-month interval may be a good starting point.
What happens at a periodontal maintenance appointment?
A thorough cleaning of the crown and root surfaces of the teeth, aimed at removing sticky plaque and hardened dental calculus (tartar), is a big part of PM treatments — but there's much more. You'll also receive a thorough clinical examination (including oral cancer screening), a review of your medical history, and x-rays or other diagnostic tests if needed. The status of any ongoing periodontal disease will be carefully monitored, as will your success at maintaining good oral hygiene. Decisions about further treatment will be based on the results of this examination.
What else can I do to keep gum disease at bay?
Keeping your oral hygiene in top-notch condition — which includes effective brushing and flossing every day — can go a long way toward controlling gum disease.  In addition, you can reduce risk factors by quitting tobacco use and eating a more balanced diet. And since inflammatory conditions like diabetes, arthritis and cardiovascular disease can make periodontal disease worse (and vice versa), keeping these conditions under control will greatly benefit both your oral health and your overall health.
If you have additional questions about maintaining oral health after gum disease treatment, contact us or schedule an appointment.